3,4-Dimethylpyrazole Phosphate (MDPP)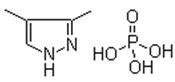 Molecular formula:
C5H11N2O4P Molecular weight:194.1 CAS No: 202842-98-6

Character:
White or almost white powder, Melting point: 168-173°C.

Product Usage:
DMPP is a new nitrification inhibitor, utilized to increase the efficiency of urea-based fertilization, protect environment and improve crop yield.

Mechanism of action
DMPP delays bacterial oxidation of NH+4-N to NO-2-N by depressing the activities of nitrosomas bacteria in soil. Fertilizer N will be contained as NH+4-N, decrease conversion of NO-2-N to NO-3-N by reducing NO-2-N content. Meanwhile DMPP may reduce N2O emission to protect environment.
The best concentration to add: 1% of total urea nitrogen.

Packaging, storage and transportation:
25 kg cardboard drum, 500 kg bag or according to customer requirements.

Quality Index:
| | |
| --- | --- |
| Item | Specification |
| Appearance | White to off-white crystalline solid |
| Identification | IR |
| Melting Point | 168-173℃ |
| Moisture | ≤1.0% |
| Assay(HPLC) | ≥97.0% |